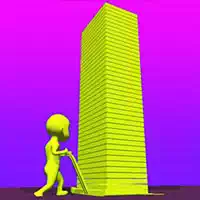 A casual game is a relatively simple one, which won't make your mind boil when you're trying to pass it. Thus, it is designed for all ages of players, from 3+ to the oldest. It is about simple rules, simply got achievements, and about having a good time with a feeling of going through and completing, not with a feeling of losing all the time.

Casual games started to appear in large amounts in the 1990s and this trend has been continuing ever since. Our website hosts a great number of such casual online free games, which everyone can play 24/7. What exactly activities are expected to have? Let's name a few:
• going to a doctor
• find the differences or hidden objects
• run, race, jump, and do other sports
• shoot for precision and to overcome foes
• cutting the ropes, throwing knives, slicing fruits and veggies
• shoot a ball into a still or moving basket
• drawing lines to make some object tackle to them or avoid this object from touching others
• playing Among Us
• pouring liquids from one volume to another – for speed or precision
• mixing cocktails to find their tastes, and much more.

Whatever action you choose to have fun with, most part of online free games is playable for relaxing and creating a strong sense of achievement. And it is possible to stay rewarded for a pretty long time since such games are created with different times of gaming – from minutes to days.