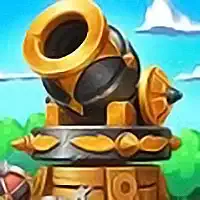 A tower defence type of games is one, where a player is in charge of protecting some 'tower' from the hordes of attacking enemies. A tower can be anything at all, not specifically a tower per se. The main goal is not to allow the foes to slip through your defence.

Players of those online free games start to play having some humble initial sum of money to be spent on building an initial line of defence. Then waves of attackers start to go, being shot by player's defending engineering facilities. In-game money is given for each kill, which is then put to constructing more defence positions. Thus, obtaining money collected from killed attackers, a player strengthens the defence line. Eventually, he or she takes all the free places with turrets and hopes that the attacking waves won't kill him. Some games are harder, some softer, yet they all feature insane variance of their types, designs, and ideas. The maps of terrains under attack may also change from level to level, as well as they can stay the same, only being strengthened over time.

Many players consider the Tower Defense type of games the most exciting, as the gaming process is saturated with events. There is no idle second! Planning of resources usually comes to the first plan, which is interesting as a brain-teasing option.