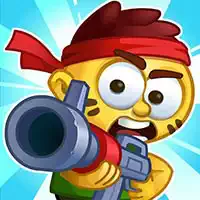 Wanna shoot for the stars?

Shooting games are THE most popular games on Earth.

Kids love to shoot stuff — online or in real life.

We have many games on offer like:

- a zombie shooter (try 'Flaming Zombooka 2', 'Spongebob VS Zombies', 'Zombudoy', 'Zombie Bullet Fly', 'Arrow Explode Zombie' among others)
- Angry Birds
- shooting the rope of a hangman ('Save the Cowboy')
- archery
sharpshooting skills
- shooting from the moving vehicle like the tank ('Zombie Tank Battle'), fortified car ('Earn to Die 2: Exodus') or a truck ('Bazooka and Monster').

Fast-paced and action-filled!

Why wait?

SHOOT!